Departments
Search
Follow Us
Tags
Latest Highlights
IBH
Shop Creativity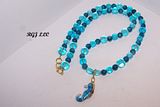 As with many places, Debora and I tend to work in spurts of creativity.  She will look at her beads and wire over and over.  Then she will see a way to put together a piece.  In the past week, she has made several beautiful pieces of wearable art.  Here are two of her creations (as thumbnails), the first features a seahorse pendant "under the sea."  The second I called a "Gypsy" necklace due to the pattern on the beads. I had a clasp that would go with the beads.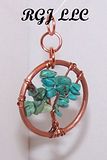 Every time that she produces, I have the honor of adding the clasps and chain to her creations trying to maintain her vision.  In between, I try to do a little creating of my own.  My last pieces have been made with copper.  I had cut some cabochons and was trying to think of some special way of making something with them other that wire wrapping or bezel setting. 
I saw a piece that Laura Bracken (in California) had made using resin in a frame of wire wrapping.  Applying that simple idea, I made a copper piece (textured, dapped and patinated) then set the cabochons in the bowl that I had made (30 by 40 mm oval) and filled up part of the bowl with clear resin.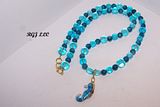 The second piece shown here is a copper and turquoise chip "Tree of Life."  The ring is 12 gauge soft round wire, the solder join is hidden in the base of the tree.  We will be continuing our creation of wearable art.
Tags: art, artistic jewelry, Creative Handmade Artisans, Handmade, Handmade Harbor, handmade jewelry, jewellery, jewelry, pendants
Posted in Handmade Harbor
One Response to "Shop Creativity"